Arcana
Arcana are cards that have been traced with preset spells and imbued with a refined form of raw chaos that allow for quick and easy casting of spells.
Arcana versus free casting
[
edit
|
edit source
]
Directly manipulating chaos to produce spells is difficult and time-consuming, and involves intense focus and precise gestures, but allows more flexibility as to what the effect is.
Arcana have preset spells imbued into them, and wizards can instantly create their stored effects by simply channeling their magic through the card. Arcana are generally created with a specific element and spell effect in mind, and don't allow much, if any, flexibility in their effect.
In the fast-paced and stressful environment of the chaos trials, free-casting is impossible, so competitors must rely on the Arcana that they have brought with them and found along the way.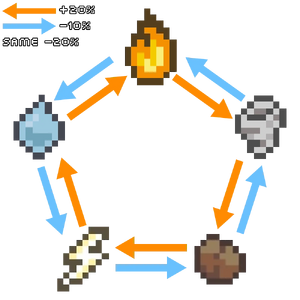 Each arcana is associated with an element; Fire, Water, Earth, Air, or Lightning, each of which has its own properties, strengths, and weaknesses. An element deals more damage to and takes less damage from its strength, and the reverse for its weakness. These can be seen in the table below:
| Element | Weak Against | Strong Against |
| --- | --- | --- |
| Fire | Water | Air |
| Water | Lightning | Fire |
| Lightning | Earth | Water |
| Earth | Air | Lightning |
| Air | Fire | Earth |
Or for simplicity: Fire > Air > Earth > Lightning > Water > Fire , going left for weakness and right for strength.
Enemies also take less damage from their own element (i.e. Freiya takes less damage from water).
Elemental attacks deal -20% damage to targets of the same elemental type, +20% damage to targets that are weak to that element, and -10% damage to targets that are strong to that element.
Chaos arcana are an extremely rare and powerful type of arcana. Few wizards are capable of using them, and even fewer can create them. The head of the Magical Council is the only known person capable of crafting chaos arcana, and they are only given out as awards for completing the trials. Due to their rarity, details of their effects remain a mystery.
Projectile and Melee Arcana
[
edit
|
edit source
]
Arcana can generally be split into two categories: Projectile and Melee arcana.
When two projectiles collide, the game will reduce both projectile's damage by the other's damage. If the damage of the projectile after collision is less than ten, it's destroyed. As an example, if you have 2 projectiles, one with 5 damage, and one with 10 damage, and they collide, the first one will be reduced to -5 damage, and be destroyed. The second projectile will be reduced to 5 damage, and also be destroyed. This damage reduction stays even after the two particles have finished the collision. If one isn't destroyed in the collision, it will continue on with the reduced damage.
The Flak Gauntlet makes all melee arcana automatically destroy projectiles, regardless of their damage.
There are a few arcana that are special and don't fit into either of these categories, such as Bolt Rail, which is neither projectile nor melee.
These categories are also responsible for item effects being applied, such as the Dark Katana, which only affects melee arcana.
There are currently 188 arcana.
Name
Description
Element
Type

Damage

Dam

Cooldown

CD

Knockback

KB

Duration

Dur

Cost
Pool
Air Burst
Dash forward on a burst of air!
Air
Dash
0
0
-
50
1
Air Spinner
Throw a disc of air into orbit around you!
Air
Basic
6, 10
0
5, 15
12
50
3
Airborne Slam
Rocket into the sky on an air jet before slamming into the ground to create a violent burst of wind!
Air
Standard
50
6s
40, 15
22
175
4
Blurring Falconry
Hurl a falcon of wind that repeatedly assails the first enemy it strikes!
Air
Signature
4
4s per charge
10
28
200
5
Breaking Twister
Unleash a slow moving burst of air that slows and damages all nearby enemies!
Air
Standard
3
7
16
150
3
Cyclone Boomerang
Hurl a rapidly revolving air current that returns to you!
Air
Signature
15
3.5s
15
11
150
1
Dragon Blast
Summon a dragon formed of wind to draw in enemies before blasting them away!
Air
Standard
8, 24
5.5s
0, 50
27
175
5
Evading Zephyr
Summon a current of air that causes all incoming attacks to miss while you are moving or using basic arcana!
Air
Standard
n/a
7s
n/a
4s
27
175
5
Fading Petal
Draw in and slow all enemies in an area!
Air
Signature
8
4.2s per charge
25, 25, 15
20
125
4
Furious Tempest
Hold to charge up and release a stormy ball of wind that implodes at maximum charge!
Air
Standard
8, 20
5.5s
0, 2, -25
26
150
5
Gale-force Alignment
Unleash a flowing burst of wind that forcefully lines up foes it strikes!
Air
Standard
3
6s
-2, 40
11
150
2
Gust Burst
Dash forward with such force that enemies in the area are pulled into your wake!
Air
Dash
5, 10
3.5s per charge
-20, 50
17
50
4
Gust Volley
Release a volley of piercing winds in a cone!
Air
Signature
12
5.25s
20
21
150
4
Heroic Leap
Designed by Virtuoso Michael Belloy, this arcana allows you to seize a foe and leap high into the air before crashing down!
Air
Standard
5, 25, 50
6s
-3, 50, 0, 50
11
150
2
Mach Stunner
Fire off a series of sound waves that stun any enemies they strike!
Air
Standard
3
6.5s
3
3s
26
150
5
Mentis Imperium
Designed by Virtuoso Claire Astrid, this arcana fires off a cloudy arrow that confuses an enemy, causing it to attack itself and other enemies!
Air
Standard
35
6s
10
∞
12
175
2
Perforating Jet
Release piercing jet streams of air!
Air
Basic
3
0
1
12
50
3
Razor Burst
Dash forward and create a vortex of cutting winds!
Air
Dash
4
5.12s
-2
~1s
17
50
4
Rushing Typhoon
Fly forward with a ring of tumbling winds that locks onto the first enemy struck!
Air
Standard
25, 5
5.5s
0, 70
26
150
5
Scales of Babylon
Designed by Virtuoso Sean 'Ariamaki' Riedinger, this arcana allows you to lower active cooldowns and steal speed from enemies by blasting them with a burst of air!
Air
Standard
25
10s
50
2
13
200
2
Severing Slash
Unleash a barrage of cutting winds! Can be charged for boosted effect!
Air
Basic
2, 3
0
9, 16, 16, 20, 20
17
50
4
Shearing Chain
Rush forward while unleashing a flurry of wind slashes!
Air
Signature
7, 15
6s
12, 34
11
150
2
Spiraling Typhoon
Draw in foes with a ring of tumbling winds before striking them away!
Air
Signature
5, 25
5.5s
-10, 40, 60, 60
0.7s
16
150
3
Storm Draft
Release a burst of air that drafts foes and stuns them against walls!
Air
Signature
20, 30
4.5s per charge
0, -10
21
150
4
Tearing Whirlwind
Rapidly spin forward and pull nearby enemies into your wake!
Air
Signature
4
5.25s
-20, -22
1s
17
175
3
Vacuum Seekers
Summon a trio of seekers that home in on enemies and implode on contact, drawing in nearby foes!
Air
Standard
16
5.4s
0, -20, -20, -3
6s
11
150
2
Vortex Trap
Dash forward, leaving behind a wind trap that propels nearby enemies into the direction of your dash!
Air
Dash
10
3.5s per charge
60
3s
22
50
5
Vortex Veil
Surrounds you with a ring of vortex winds that damage and knockback enemies!
Air
Standard
10
6.5s
26
150
5
Ward of Winds
Summon a ward of air that slows enemies and increases all air damage done in the area!
Air
Standard
30
8s
8s
25
125
5
Whirling Tornado
Unleash a protective vortex of fierce winds!
Air
Signature
8, 10
6s
-1, 50, 1, 50
0.8s
17
175
3
Whirling Wind Agent
Conjure an agent of wind that buffets foes with whirling winds!
Air
Standard
7
15s
10
10s
23
200
4
Wind Flurry
Unleash a quick salvo of cutting winds!
Air
Signature
5
0.3s per charge
3, 1, 75
10
125
1
Wind Sentry
Throw a projectile that shoots enemies in the area!
Air
Standard
5
5s
26
150
5
Wind Slash
Summon arcs of slashing wind!
Air
Basic
8, 10, 12
0
4, 5, 7, 8
-
50
1
Absolute Finale
Throws out an orb of primal chaos that erases the first enemy hit from existence! Enemies that cannot be erased will take heavy damage instead.
Chaos
Signature
10
8.5
-
300
Arcane Intervention
Designed by Virtuoso Kaleb Daugherty, this arcana allows you teleport all nearby enemies into a chaos storm!
Chaos
Signature
25, 5
4.25
-10, -1
-
300
Chaos Crusher
Create a chaotic rift to strike foes before compressing it and firing it forward!
Chaos
Basic
8, 6
0
15, 10
-
300
Chaos Reaper
Slice through enemies with a scythe made of Chaos energy! Can be charged for boosted effect!
Chaos
Basic
10, 20, 10, 25
0
12, 18, 22, 30


Chaotic Buster
Hold to charge up and release an unstable cluster of chaos orbs that unleashes a barrage of strikes on any enemy hit!
Chaos
Signature
25, 5, 5, 5
6
25, 7, -5, 5
-
300
Chaotic Echoes
Summon an offensive barrier around you as you dash! Project two spectral copies of yourself that attack in the direction of your next dash!
Chaos
Dash
12, 10
4.5


Chaotic Rift
Dash through a rift torn open by primal chaos!
Chaos
Dash
-
0.5 sec
-
-
300
Distortion Beam
Summon a beam of chaos energy!
Chaos
Signature
5, 25
5.25
1, 40
-
300
Dragon Fall
Call down a chaos dragon to crash down from the skies! This arcana absorbs other dragon arcana!
Chaos
Standard
75
8.0s
N/A
N/A

Gravity Onslaught
Lunge forward and strike all enemies a blast of graviton energy, causing them to bounce around while taking damage!
Chaos
Standard
27, 5
5
-

Mark of Discord
Hurl a lance of chaos that calls down chaotic retribution on impact!
Chaos
Signature
10, 10, 5, 10
4.5
20, 10, 0, 0


Mortal Coil
Designed by Virtuoso Nathan 'MortisXII' Cannell, this arcana allows you to impale all enemies in a line with a spear of chaos and drag them to you!
Chaos
Signature
25, 25, 10, 50
3
4, 0, -2, 50
-
300
Null Flash Agent
Conjure a pair of agents that unleash a series of directed blasts on nearby enemies!
Chaos
Signature
10
15
10, 5
10, 7.5


Null Parade
Throw out a cluster of chaos orbs that explode on landing!
Chaos
Signature
5, 25
6
-2, 30
-
300
Phantom Brigade
Summon a legion of Chaos Knights that rush forth and attack enemies!
Chaos
Signature
5
8
10
-
-
300
Phantom Squadron
Summon a legion of Chaos Lancers that take to the skies and crash down on enemies!
Chaos
Standard
5
8
10
-
-
?
Piercing Void
Summon a field of void blades that rain down on foes!
Chaos
Signature
5, 7
6
-5
-
300
Ward of Chaos
Form a ward of chaos that lobs orbs of imploding energy at nearby enemies and increases all damage done in the area!
Chaos
Standard
?
-

Aegis Charge
Shield incoming attacks as you charge forward, stunning enemies in your path!
Earth
Standard
15, 25, 30
5.2s
20, 20, 35
26
150
5
Bladed Vine
Repeatedly whip a bladed vine to slash foes!
Earth
Basic
7, 15
0
6, 12, 8
12
50
3
Dragon Dive
Summon a tunneling dragon that drives away foes!
Earth
Standard
8
6s
25
10
125
1
Earth Knuckles
Pummel foes with gigantic earth fists!
Earth
Basic
16, 18
0
14
10
50
1
Earth Stomp Agent
Conjure an agent of earth that crushes foes!
Earth
Standard
15
15s
20, 10
10s
23
200
4
Earthen Aegis
Form a protective ring of stone shields!
Earth
Standard
5
8s
10
4.5s
11
150
2
Earthquake Axe
Hurl a giant stone axe into the air that crashes down on enemies!
Earth
Standard
30
3.5s per charge
15
20
125
4
Embracing Vines
Cultivate a row of entwining vines that roots foes!
Earth
Standard
25
7s
~4s
25
125
5
Entangling Vines
Summon a set of vines that pull nearby enemies close to you!
Earth
Dash
5, 10
5.5s
10, 30, 35, 35
22
50
5
Fadeaway Rhythm
Mark foes with a series of rocky strikes that explode as you leap back!
Earth
Standard
10, 15
5.25s
15, 25
26
150
5
Grasping Earth
Designed by Virtuoso Laurent Sweert, this arcana allows you to grasp all foes in the area with giant stone fists!
Earth
Standard
10, 3, 25
7.5s
11
150
1
Hammer of Atlas
Solidify a giant hammer of stone and whirl it about before hurling it forward!
Earth
Signature
12, 5, 25
5s
12, 12, 50, 25, 50
26
150
5
Knockout Boulder
Hurl a boulder that stuns foes!
Earth
Standard
25, 50
5s
10, 50, 25
26
150
5
Magnetic Follow-up
Generates a magnetic aura that causes basic arcana to hurl stone projectiles!
Earth
Standard
3
8s
1
5s
21
150
4
Obsidian Cascade
Unleash a cascade of obsidian daggers!
Earth
Signature
12
6s
15
16
150
3
Obsidian Splitter
Swing a massive battle axe that covers a wide area! Can be charged for boosted effect!
Earth
Basic
15, (30, charged attack)
0
20, 35, 25, 15
17
50
4
Prickly Ballet
Summon a cactus familiar that unleashes a spikey barrage of needles!
Earth
Signature
3, 1
6
1, 0
27
175
5
Razor Petals
Throws out a flower that spins in place before returning to you!
Earth
Standard
8, 4, 8
4.7s per charge
26
150
5
Rippling Rupture
Rupture the earth with rapidly tunneling vines to continually damage enemies in a line!
Earth
Standard
10
6.5s
5
5s
10
125
1
Rock n' Roll
Summon a pair of rocky buzzsaws that tear forward!
Earth
Signature
3
6s
4
22
175
4
Rock-solid Tomahawk
Summon and hurl a stone tomahawk at your foes! Can be used repeatedly for a short duration.
Earth
Signature
5, 15, 5
6s
5, 10, 10
~6s
10
125
1
Seismic Entry
Launch into the air and crash down on all nearby foes to stun them!
Earth
Signature
50
5.5s
10
11
150
2
Shattering Strike
Strike a boulder to shatter it into a ring of shrapnel!
Earth
Signature
25, 5
5.25s
10, 20, 0
15
125
3
Snare Track
Tear forward as a trio of vines entangle enemies in your wake!
Earth
Dash
20
6s
17
50
4
Spike Track
Tear forward and leave behind a trail of earthen spikes!
Earth
Dash
30
5s
10
17
50
4
Stalwart Defenders
Designed by Virtuosos Shamrock63 and Slamuel, this arcana allows you to form a quartet of chess knights that leap to your defense!
Earth
Standard
15, 50
6s
30, 15, 25
11
150
2
Stone Seekers
Summon a pair of seekers that home in on and stomp on nearby enemies!
Earth
Standard
25
5.5s
0, 3
6s
11
150
2
Stone Shot
Rapidly fire stones!
Earth
Basic
12, 15
0
10, 10, 16, 16
12
50
3
Tectonic Drill
Drive forward and rock enemies with a giant drill made of stone!
Earth
Signature
10
5.5s
55
16
150
3
Terra Ring
Pulverize the ground to summon cascading rings of earth spikes!
Earth
Signature
15
5s
7, 12, 1
26
150
5
Toxic Bolas
Hurl bolas made of toxic vines to entangle and poison foes!
Earth
Signature
35, 25 (poison)
6s
21
150
4
Toxic Trap
Tear forward while throwing behind a toxic bomb that poisons foes!
Earth
Dash
25 (poison)
6s
12
50
3
Violent Thornstorm
Hold to charge up and release a bundle of thorny vines that explode into caltrops at maximum charge!
Earth
Standard
6, 20, 25, 20 (poison)
5.4s
26
150
5
Ward of Stones
Form a ward of earth that periodically stuns foes and increases all earth damage done in the area!
Earth
Standard
25, 5
8s
8s
25
125
5
Blazing Blitz
Dash forward and pummel a foe with barrage of fiery punches!
Fire
Signature
5, 50
5.4s
0, 50
16
150
3
Blazing Lariat
Spin forward while swinging a blazing whip of flames!
Fire
Signature
26, 26, 16 (burn)
5.5s
20, 25, 12
17
175
3
Blazing Onslaught
Dash forward, grabbing all enemies in your path before unleashing an onslaught of fireballs!
Fire
Standard
10, 25
5.5s
0, 10, 25
26
150
5
Blazing Vault
Blast into the air and come crashing down into a fiery explosion!
Fire
Standard
34, 24 (burn)
6s
50, 35
21
150
4
Bouncing Blaze
Fling bouncing balls of fire!
Fire
Basic
12
0
20
17
50
4
Burn Cycle
Unleashes a fiery combo that ends with a flaming punch!
Fire
Standard
25, 30, 16 (burn)
4.2
26
150
5
Crashing Meteor
Call down a meteor from the skies!
Fire
Standard
75
6.25
30
26
150
5
Dragon Arc
Summon a torrent of fiery dragons!
Fire
Signature
8
0.6s per charge
8
-
125
1
Engulfing Fissure
Strike the ground, creating a burning fissure that ensnares nearby enemies!
Fire
Standard
4
3.6s per charge
-3, -10
9s
10
125
2
Exploding Fireball
Fire a massive fireball that explodes on impact!
Fire
Signature
50
5
35, 10, 50
-
150
1
Explosive Charge
Charge through enemies, marking them with a timed explosive!
Fire
Standard
10, 25
3.25s per charge
10, 25, 25
25
125
5
Fiery Yo-yo
Hurl flaming orbs that fly out and return to you!
Fire
Basic
6
0
6, 4
12
50
3
Fire Wall
Ignite the ground to create a blazing trail of flames!
Fire
Standard
10, 16 (burn)
8
10
10
125
2
Flame Breath
Blast away enemies with a breath of fire!
Fire
Signature
18
5.5s
20, 20, 10
1.05
21
150
4
Flame Cleaver
Carve out a wave of flames that ignites all enemies in its path!
Fire
Signature
16, 16 (burn)
4s per charge
12
26
150
5
Flame Cross
Fire off waves of criss crossing flames!
Fire
Basic
6, 9
0
4, 7
12
50
3
Flame Fusion
Fire off a fireball, followed by a flaming arrow that can be fused to release a burst of arrows!
Fire
Standard
28, 10, 16 (burn) 12, 28 (burn)
6s
15, 25, 25
27
175
5
Flame Seekers
Summon seekers that home in on nearby enemies and explode on contact!
Fire
Standard
5, 28 (burn)
5.5s
0, 35
6
11
150
2
Flame Strike
Blast enemies away with plumes of flames! Can be charged for boosted effect!
Fire
Basic
7, 14, 28 (charged)
0
5, 6, 12, 12
10
50
1
Flare Rush
Rush forward and conjure a volley of accompanying flares!
Fire
Dash
18, 16 (burn)
5.5s
20
17
50
4
Fuelled Berserk
Enter a burning rage that speeds up basic arcana!
Fire
Standard
n/a
7s
n/a
5s
12
175
2
Heroic Blaze
Spiral into the sky while a flaming vortex draws in nearby foes!
Fire
Signature
8, 20
6s
-2, 40, 45, 40
1.5s
27
175
5
Homing Flares
Ignite a halo of flares that home in on the nearest foe!
Fire
Signature
7
5s
15
4s
10
125
2
Ignition Drive
Blast enemies away with a chain of explosions!
Fire
Standard
10, 30, 16 (burn)
5.5s
25, 35, 10
16
150
3
Ignition Rush
Rush forward and ignite a fiery aura around you that burns foes you come into contact with!
Fire
Dash
16 (burn)
6s
16
3s
17
50
4
Inferno Beam
Unleash a pair of criss-crossing fire beams that damage and burn enemies!
Fire
Signature
15, 16 (burn)
5.5s
20, 25, 10, 50
28
200
5
Inferno Cannon
Burst forward with a scorching lunge before blasting away enemies with a round of burning flames!
Fire
Standard
10, 40, 16 (burn)
4.7s
26
150
5
Magma Rush
Summon explosive mines that home in on nearby enemies!
Fire
Dash
14, 16 (burn)
5.5s
25
4s
17
50
4
Raging Inferno
Hold to charge up and release an expanding ball of fire that explodes at maximum charge!
Fire
Standard
10, 20, 16 (burn)
6.5s
0, -5, 50
26
150
5
Rapid Fire Agent
Conjure an agent of fire that engages foes with a rapid barrage of fireballs!
Fire
Standard
5
15s
10
10
23
200
4
Searing Crown
Blast away enemies around you with a burning halo of flames!
Fire
Standard
5, 20, 16 (burn)
6s
4, 4, 35
21
150
4
Searing Rush
Rush forward and leave flames in your wake!
Fire
Dash
28 (burn)
5.5s
10
0.35
10
50
2
Tracer Barrage
Fire off a volley of arcing tracers that return to you!
Fire
Signature
7
5s
7
15
125
3
Ward of Flames
Form a ward of fire that damages enemies and increases all fire damage done in the area!
Fire
Standard
30, 5
8s
8s
25
125
5
Arc Sphere
Generate a stationary sphere of arcing current!
Lightning
Signature
5, 10 (shock)
5s
26
150
5
Ball Lightning
Hold to charge up and release a devastating ball of lightning that shocks at maximum charge!
Lightning
Signature
12, 42 (shock)
5.5s
75, 75, 0
17
175
3
Bolt Claymore
Release a charged orb that can be detonated to strike all nearby foes with lightning!
Lightning
Standard
50, 16 (shock)
6s
26
150
5
Bolt Rail
Direct a short stream of lightning!
Lightning
Basic
5, 10
0
1
10
50
1
Bouncing Surge
Conjure a spear of lightning that bounces between enemies!
Lightning
Standard
First 2 targets: 30, 16 (shock) All other targets: 10, 10 (shock)
5s
10
11
150
2
Circuit Line
Jolt ahead, leaving behind electric orbs that are chained together after a short delay!
Lightning
Dash
2
4s per charge
12
50
3
Deferred Dynamo
Send out an electric orb that fires a continuous lightning stream at the first enemy it strikes!
Lightning
Standard
30, 2, 10, 12 (shock)
5.5s
35, 4, 10, 2
16
150
3
Dragon Circuit
Summon a dragon that speeds along a circuit before crashing down on the enemy!
Lightning
Signature
10
4.5s per charge
10
26
150
5
Dynamic Disarray
Release a shower of sparks that bounce off any enemies they strike!
Lightning
Standard
10, 8 (shock)
0.8s per charge
27
175
5
Ion Spike
Generate a charged orb that syncs up with nearby orbs before releasing a stream of lightning!
Lightning
Standard
6
4s per charge
10
125
1
Laced Lightning
Summon a ring of lightning pins with a shocking current that laces them together!
Lightning
Standard
2
6s
N/A
~3.5s
12
175
2
Lightning Aspect
Generate a field of electricity that shocks enemies that you come into contact with!
Lightning
Standard
20 (shock)
7s
4s
10
125
2
Line Shock Agent
Conjure an agent of lightning that assaults foes with a stream of lightning!
Lightning
Standard
2
15s
1
10s
23
200
4
Magnetic Breakers
Fire off a pair of magnetized orbs that fly forward while bouncing off of each other!
Lightning
Signature
12
4.5s
30, 0
25
125
5
Magsphere
Designed by Virtuoso David Gottsegen, this arcana allows you to pull all nearby projectiles into an orbit around you!
Lightning
Standard
n/a
12s
n/a
5s
11
150
2
Radiant Blast
Release a surge of electric energy in a circular area! Can be charged for boosted effect!
Lightning
Basic
8, 12, 4 (charged attack)
0
5, 8, 8
17
50
4
Shock Assault
Ride a bolt of lightning to shock foes in the area!
Lightning
Signature
5, 16 (shock)
5s
10
11
150
2
Shock Line
Jolt ahead and leave behind a line of shocking current!
Lightning
Dash
16 (shock)
6s
17
50
4
Shock Nova
Hold to charge up and release an explosion of electricity that shocks all foes in the area at maximum charge!
Lightning
Signature
10, 14 (shock) (24 if fully charged)
5.5s
22
175
4
Shock Wire
Throw out a wire of current that shocks any enemies that it comes into contact with!
Lightning
Standard
16 (shock)
6s
2s
26
150
5
Spark Array
Form a double weave of shocking sparks that slowly move outward!
Lightning
Signature
5, 24 (shock)
5.5s
26
150
5
Spark Contact
Jolt foes with a burst of electricity!
Lightning
Basic
6, 7, 8, 9, 10
0
10
12
50
3
Star Bolt
Hurl an electrified star that shocks any enemy it strikes!
Lightning
Standard
10, 12 (shock)
3.25s per charge
20
20
125
4
Surge Anchor
Throws out an anchor that generates a surge of lightning between you and the anchor!
Lightning
Standard
2
6.5s per charge
4s
21
150
4
Thunder Drop
Volt into the sky before crashing down on a bolt of lightning to shock all foes in the area!
Lightning
Signature
30, 16 (shock)
6s
10
16
150
3
Thunder Line
Jolt ahead as a burst of lightning shocks foes in the area!
Lightning
Dash
10, 12 (shock)
5s per charge
17
50
4
Thunder Seekers
Summon seekers that home in on and shock nearby enemies!
Lightning
Standard
10, 0, 18 (shock)
5.5s
2, 8
6s
11
150
2
Thundering Chain
Generate a series of lightning strikes that shock foes!
Lightning
Standard
40, 10 (shock)
6s
10
125
1
Twin Turbines
Throw out a rapidly revolving turbine that splits and creates streams of lightning while returning to you!
Lightning
Standard
25, 10, 2
4.5s
26
150
5
Volt Disc
Discharge an electric disc that bursts before dissipating!
Lightning
Basic
9, 0
0
0, 5
12
50
3
Volt Pinball
Generate a protective ring of charged orbs that ricochet from foe to foe!
Lightning
Signature
8
6.75
25
4s
26
150
5
Volt Tracer
Summon an electrified afterimage that tracks your path and explodes when it catches up to you!
Lightning
Dash
8, 8
4s per charge
20, 5, 5
22
50
5
Voltaic Needle
Dart forward and pin all foes in your path with a piercing lightning needle!
Lightning
Signature
25, 5
5.5s
60, 15
21
150
4
Ward of Lightning
Summon a lightning ward that shocks foes randomly and increases all lightning damage done in the area!
Lightning
Standard
20, 16 (shock) , 10
8s
8s
25
125
5
Aqua Arc
Direct an arcing stream of water!
Water
Basic
8
0
5, 5, 8, 8
10
50
1
Aqua Beam
Unleash a torrent of water to blast away enemies!
Water
Signature
10
0.75
20
23
200
4
Aqua Breaker
Hold to charge up and release a rapidly spinning ball of water that creates an explosive deluge at maximum charge!
Water
Signature
10, 35
5.5s
25, 40
21
150
4
Aqua Vortex
Summon swirling currents of water that envelop you!
Water
Standard
8
4s per charge
-4
26
150
5
Binary Splashdown
Throw out a burst of water that draws in foes before blasting into the sky and splashing down!
Water
Standard
8, 35
6.5s
-4, 35, 20
27
175
5
Bouncing Bubble
Throw out a bubble of water that bounces every time it strikes an enemy or wall!
Water
Standard
5
2s per charge
5
6s
27
175
5
Bubble Barrage
Rapidly fire a stream of explosive bubbles!
Water
Standard
10
0.5s per charge
15
25
150
5
Bubble Blast
Surround yourself in a flurry of bubbles!
Water
Dash
5
6s per charge
12, 16
~1s
17
50
4
Calming Flow
Enter a calming state where every last hit of your basic arcana lowers all cooldowns!
Water
Standard
n/a
7.5s
4.25s
11
150
2
Cardice Prime
Conjure a rapidly revolving ring of icy blades!
Water
Standard
3
7.5s
5
4s
12
175
2
Cascading Blitz
Blasts out a chain of water blobs before using them to pummel foes with a series of blows!
Water
Standard
10
6s
10, 15, 25
11
150
2
Creeping Tendrils
Designed by Virtuoso Verdestrom, this arcana creates a tendril of water that binds and travels to any foes it hits!
Water
Standard
25, 5
6s
5
11
150
2
Crystalline Balestra
Executes a double lunge with a sweeping slash of frost!
Water
Standard
30, 35
5.5s
26
150
5
Dragon Surge
Unleash a pair of watery dragons that track and assault your foes!
Water
Signature
5, 2
10s
10
~9s
26
150
5
Frost Blade
Summons icy blades that cut through enemies! Can be charged for boosted effect!
Water
Basic
7
0
8, 8, 16, 20
22
50
5
Frost Fan
Throw out a fan of frost daggers that freeze enemies!
Water
Signature
25
6s
30
0
150
1
Frost Feint
Race forward while leaving behind a frozen decoy!
Water
Dash
12
3.5s per charge
2s
10
50
2
Frost Scimitar
Throw out a rapidly spinning sword that slowly returns to you as it slices enemies in its path!
Water
Signature
15, 2
3.75s per charge
6, 8, 8, -12
21
150
4
Frost Wing
Race forward on frozen wings that unleash a cone of freezing feathers behind you!
Water
Dash
20
5.5s
20
17
50
4
Frozen Bait
Lob a frozen decoy that lures in foes and giant sharks alike!
Water
Standard
25, 25, 40
7
-15, 25, 35
26
150
5
Glacial Cross
Dash forward and conjure a colossal frozen fist to strike foes!
Water
Signature
50, 10, 30
6.5
70, 10, 5
16
150
3
Ice Dagger
Pierce foes with conjured ice daggers!
Water
Basic
6, 6, 8, 10, 12
0
14, 14, 16, 20, 20
17
50
4
Ice Seekers
Summon seekers that home in on and freeze nearby enemies!
Water
Standard
15
5.5s
5
6s
11
150
2
Ice Spear
Conjure a spear of ice that impales foes and freezes them against walls!
Water
Signature
25, 0, 25
6
0, 5, -1
11
150
1
Perfect Storm
Summon a storm of hail and ice shards that rains down on foes!
Water
Standard
5, 10
6
0
2.5
17
175
3
Permafrost Bulwark
Encases you in an invulnerable block of permafrost that explodes and freezes nearby enemies!
Water
Standard
30
3.7s
26
150
5
Rebounding Icicles
Conjure a series of icicles that cascade out and return to you!
Water
Signature
5, 7
4.5
25
0
125
1
Rip Tide
Unleashes a trio of water ripples!
Water
Basic
8, 7, 5
0
5
12
50
3
Snowflake Chakrams
Conjure snowflake chakrams that orbit outwards!
Water
Signature
7
6.5
10
21
150
4
Tidal Blast
Pull in enemies with a series of water balls before blasting them away with a massive deluge!
Water
Signature
15, 50
6
-10, 50
16
150
3
Ward of Frost
Form a ward of frost that periodically freezes foes and increases all water damage done in the area!
Water
Standard
2
12
8
25
125
5
Water Prison
Fire off a prison of water that envelops the first enemy it strikes!
Water
Standard
40 (15 + (5x5))
5
25
16
150
3
Water Pulse Agent
Conjure an agent of water that douses foes with a spread of water blobs!
Water
Standard
7
15
15
10
23
200
4
Wave Front
Race forward while enveloped in a watery globe that briefly shields you!
Water
Dash
3
5
0, 25
12
50
3