Lancer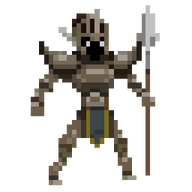 The Lancer is one of the enemies in Wizard of Legend.
Lancers and variants are able to hit through corners or items in the map, making corners not a viable safe zone.
The lancer's spear jab has deceptively long range, try to stay further away from them than you think is necessary.
Elemental lancers were added in the Sky Palace Update.