Turret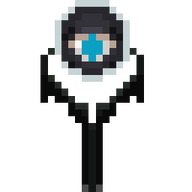 The Turret is one of the enemies in Wizard of Legend.
Shoots magic bolt at the player in sight. Their "eye" opens fully before firing the bolt.
Shoots a toxic ball that poisons the player. Only spawns in The Living Courtyards.
Either find cover out of the turret's line of sight, or run around the turret and attack it with a high damage arcana if you can.